The "apple does not fall far from the tree". Hali comes by her tall size honestly and should breed true to her height as she comes from a long line of taller Arabian horses with both her sire and dam being at least 15.2H tall. Hali's legs are longer than her dam's, so we are expecting her to mature taller than 15.2 hands. Hali is the breeding result of many generations of breeding National Champion Arabian bred sires to National Champion Arabian bred dams. Hali's lineage is full of Arabian Legends, Champions and Champion producers.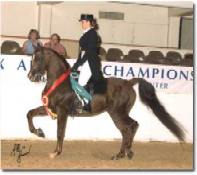 Hali's sire, TAF Adonisbey+ , is a multiple Champion Arabian stallion in Show Hack, Costume and Country English Pleasure. He is a 15.2H dark liver chestnut stallion that has the wonderful trainability, disposition and athletic ability to compete at the National level being shown by his owners.
---
Adonisbey+ is a son of the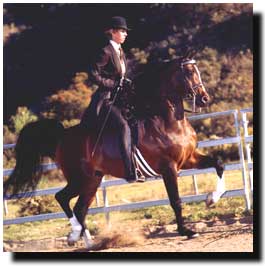 Legendary Arabian stallion, Huckleberry Bey++, a beautiful tall bay Arabian stallion that dazzled the National Champion show ring in English Pleasure and is one of the all-time leading sires and grandsires of National Champion Arabian English Pleasure horses. Many of Huckleberry Bey++'s sons are now legendary in their own right for achieving National Champion titles as well as siring National Champions. Huckleberry Bey++ is the product of the Varian breeding program that started with the breeding of their National Champion Arabian stallion, Bay Abi to their beautiful pure polish grey Arabian mare *Naganka that was imported from Poland.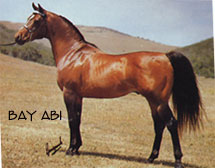 National Champion Arabian stallion, Bay Abi to their beautiful pure polish grey Arabian mare *Naganka that was imported from Poland.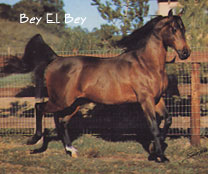 This cross produced Bey El Bey, also a National Champion and National Champion producing sire.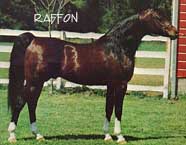 Bey El Bey when bred to a daughter of National Champion Raffon++, a Crabbet bred Arabian stallion, produced Huckleberry Bey++. Raffon++ was the 1965 US Nat'l Champion Stallion; '73 US Natl Champ English Pleasure; Legion of Merit and Sire of Significance.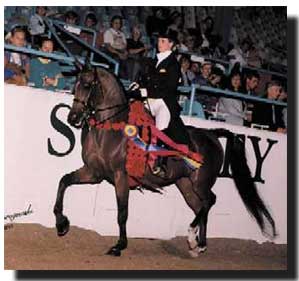 Venus Del Nilo, Hali's grand dam on her sire's side is a 3 time US National Champion in Show Hack.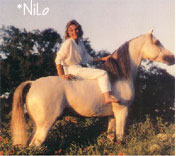 She is the winner of 6+ National Titles. She is a stunning tall Bay Arabian mare winning Championship after Championship with her owner, Jan Moffatt . Venus is also a multiple champion producing dam.Venus is the product of breeding the imported Spanish National Champion stallion, *Nilo, with a daughter of the US and Canadian National Champion Jora Honey Ku. Jora Honey Ku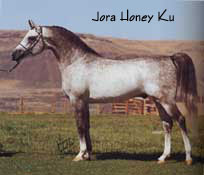 was not only a multi National Champion Egyptian Arabian Stallion but also a sire of many National champions. Jora Honey Ku, a stunning grey Arabian stallion,(pictured to the left) sired VP Kahlua, 1984 National Champion Mare and World champion. Kahua won every major world show all in the same year! Included U.S. & CANADIAN Nat'ls, SCOTTSDALE, & SALON de CHEVAL in PARIS, FRANCE.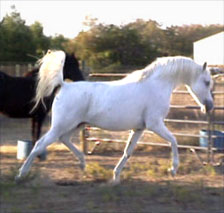 Hali's dam, IV Silver Shadow is a beautiful 15.2H mare that is the product of a long line of National Champions and/or National Champion producing sires and dams as well. IV Silver Shadow's only Half-Arabian Filly was exported from the US to Costa Rica as a weanling.
Shadow's sire, *Grojor is a Swedish National Champion Arabian stallion that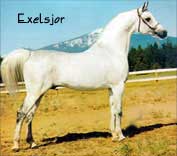 was imported to the US. Grojor is the sire of Alrex, twice Sweden Champion, French National Champion, European and World reserve Champion.
*Grojor is a son of the exceptionally beautiful grey Arabian stallion, *Exelsjor who was a Swedish National Champion and European Champion. Exelsjor was born in 1963 at Janow Podlaski (Poland). He was imported to Sweden in 1964 and imported to the USA in 1970 where he died by an accident in 1978.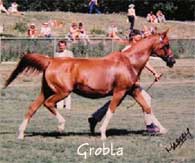 *Grojor's dam, Grobla was the 1975 Swedish National Champion Mare. Grobla's dam, *Gwadiana, was a mare of immeasurable worth to worldwide Arabian breeding as the aristocrat dam of eight champions including US Reserve & Canadian National Champion Stallion and Park Gwalior, Top Ten Stallions Gwiazdor and Grandorr, Top Ten Mare Show Girl and the good sires Gwar who sired the 2 time National Reserve Champion Park Horse Rawar, and Gwasz El Azjaa. Two of her daughters would gain fame through their grandget: Gwyn as the dam of Gwyndalyn, dam of National Champion Stallion and important sire Strike; and Gwozdawa as the dam of US Reserve National Champion English & Western Pleasure Gdynia, who produce include the invaluable sires Gdansk and Cognac as well as the mares Gardenia, Garnet and Granaada.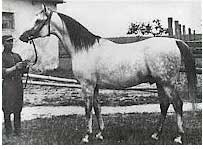 Grobla's sire, El Trypolis was a Polish Chief Sire by Trypolis. Trypolis was bred by Janow Podlaski. He was a Polish Sire of Significance. Esteemed as one of the most beautiful and athletic stallions of the early post-war period, TRYPOLIS is highly sought after in Arabian pedigrees. TRYPOLIS had the distinct honor of siring at Janow Podlaski during the war, and at each of the three new studs - Albigowa, Nowy Dwor and Michalow - under the state controlled breeding program, giving valuable get at each location. His greatest attributes were his spectacular forehand, marked by a beautiful head, a long, highly set, well arched neck, a long, well-laid back shoulder, a wide, deep chest and well conformed forelimbs. TRYPOLIS was a splendid mover with a long, powerful, sweeping stride. He is best remembered for siring excellent daughters, whose produce have had great impact on breeding programs around the world. TRYPOLIS is also credited for continuing the sire line of Krzyzyk, Poland's oldest tail male line directly imported from the desert. Shadow has several crosses on her sire and dam side to Trypolis in her pedigree.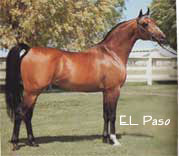 Shadow's dam, Silver Dreamm's lineage traces to the beautiful Pure Polish bay Arabian stallion, *El Paso, "The Horse that money could not buy", set a record for the greatest amount of money ever paid for an Arabian Stallion to be imported into the US. *El Paso went on to be named a National Champion Arabian stallion and subsequently was syndicated and sired many National Champion get as well as having many National Champion grand get. *El Paso was a grandson of the legendary Polish Arabian stallion, Witraz, who was also the sire of *Bask. Witraz plays a strong role in Shadow's lineage through his daughters Eleonora, twice and his daughter Ellora, the dam of *El Paso,
Six El Paso offspring were imported to Sweden, in 1978 by the renowned Swedish breeder, Mr. Erik Erlandsson.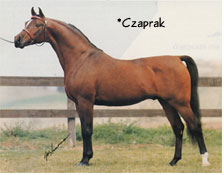 One of these was CZAPRAK (Czatanoga), a bay stallion who produced 23 offspring before he was exported to USA two years later. Czaprak became a Swedish National Champion Stallion. *Czaprak was syndicated and stood at Creston Oaks Arabians in CA and was "internationally acclamined as the best son of *El Paso" in 1984. His get average over $50,000 in auctions at that time. Czaprak is the sire of *Silver Dreamm an imported mare from Sweden and the dam of IV Silver Shadow. As you might guess, the "silver" in Silver Shadow traces to one of the all time Crabbet bred horses - Silver Drift. Silver Drift can be found on many Champion Arabian horses' pedigrees around the World.