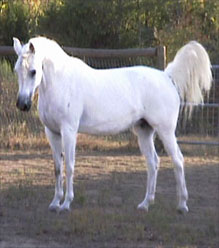 Reg: AHR 0517778 White Gray Purebred Arabian Mare
Bloodlines: Polish
Foaling Date: January 10 1992
Professionally trained under saddle.

Shadow posseses a beautiful neck, correct legs with the substance and balance that produces great athletic ability that has come to be expected from the best of the Legendary Polish bloodlines of Witraz, Wiekla Szlem, Trypolis and Amurath Sahib as well as her tail female line tracing to the Legendary Rose of Sharon through Risala.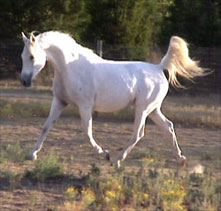 Shadow is 15.2h and produces very tall foals that have long legs, necks, natural flagged tail carriage and can really trot. Pictured at 13 years old and having just weaned her 2005 foal, she has retained a beautiful strong topline, unblemished legs and with an enduring beauty that radiates in her snow white Arabian coat with large dark eyes and tiny black muzzle.
IV Silver Shadow is the product of a long line of National Champions and/or National Champion producing sires and damsl. IV Silver Shadow's only Half-Arabian Filly was exported from the US to Costa Rica as a weanling to start the fiirst Pinto Arabian breeding program there. . Shadow's foals are very special, not only for their excellent breeding and size, but also for the joy of owning a unique work of nature's art in one of it's most beautiful forms. Like a fine wine, they become their most radiant with age.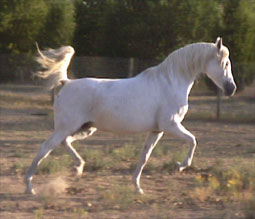 Shadow's sire, *Grojor is a Swedish National Champion Arabian stallion that was imported to the US. Grojor is the sire of Alrex, twice Sweden Champion, French National Champion, European and World reserve Champion. Grojor has sired several US champion National winners such as DS Prodigy and CA Love Gro.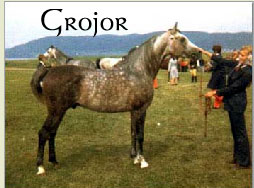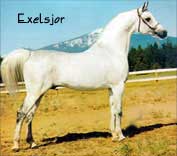 *Grojor is a son of the exceptionally beautiful grey Arabian stallion, *Exelsjor who was a Swedish National Champion and European Champion. Exelsjor was born in 1963 at Janow Podlaski (Poland). He was imported to Sweden in 1964 and imported to the USA in 1970 where he died by an accident in 1978. Exelsjor was known as a sire of great producing broodmares. His daughter Edjora produced the Nat. CH mare, Kajora who is the dam of International Champion Gazal Al Shaqb the sire of International Champion Marwan Al Shaqab.
*Grojor's dam, Grobla was the 1975 Swedish National Champion Mare.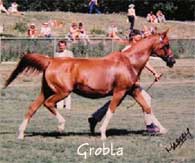 Grobla's dam, *Gwadiana, was a mare of immeasurable worth to worldwide Arabian breeding as the aristocrat dam of eight champions including US Reserve & Canadian National Champion Stallion and Park Gwalior, Top Ten Stallions Gwiazdor and Grandorr, Top Ten Mare Show Girl and the good sires Gwasz El Azjaa and Gwar who sired the 2 time National Reserve Champion Park Horse Rawar.. Two of Gwadiana's daughters would gain fame through their grandget: Gwyn as the dam of Gwyndalyn, dam of National Champion Stallion and important sire Strike; and Gwozdawa as the dam of US Reserve National Champion English & Western Pleasure Gdynia, who produce include the invaluable sires Gdansk and Cognac as well as the mares Gardenia, Garnet and Granaada.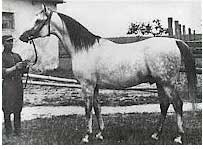 Grobla's sire, El Trypolis was a Polish Chief Sire by Trypolis. Trypolis was bred by Janow Podlaski. He was a Polish Sire of Significance. Esteemed as one of the most beautiful and athletic stallions of the early post-war period, TRYPOLIS is highly sought after in Arabian pedigrees. TRYPOLIS had the distinct honor of siring at Janow Podlaski during the war, and at each of the three new studs - Albigowa, Nowy Dwor and Michalow - under the state controlled breeding program, giving valuable get at each location. His greatest attributes were his spectacular forehand, marked by a beautiful head, a long, highly set, well arched neck, a long, well-laid back shoulder, a wide, deep chest and well conformed forelimbs. Despite his poorer hindquarter construction, TRYPOLIS was a splendid mover with a long, powerful, sweeping stride. He is best remembered for siring excellent daughters, whose produce have had great impact on breeding programs around the world. TRYPOLIS is also credited for continuing the sire line of Krzyzyk, Poland's oldest tail male line directly imported from the desert. Shadow has multiple crosses on her sire and dam side to Trypolis in her pedigree.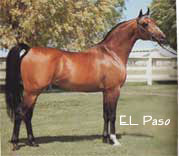 Shadow's dam, Silver Dreamm's lineage traces to the beautiful Pure Polish bay Arabian stallion, *El Paso, "The Horse that money could not buy", set a record for the greatest amount of money ever paid for an Arabian Stallion to be imported into the US. *El Paso went on to be named a National Champion Arabian stallion and subsequently was syndicated and sired many National Champion get as well as having many National Champion grand get. *El Paso was a grandson of the legendary Polish Arabian stallion, Witraz, who was also the sire of *Bask. Witraz plays a strong role in Shadow's lineage through his daughters Eleonora, twice and his daughter Ellora, the dam of *El Paso.
Six El Paso offspring were imported to Sweden, in 1978 by the renowned Swedish breeder, Mr. Erik Erlandsson.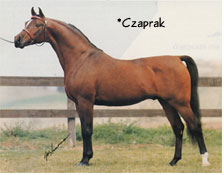 One of these was CZAPRAK (Czatanoga), a bay stallion who produced 23 offspring before he was exported to USA two years later. Czaprak became a Swedish National Champion Stallion. *Czaprak was syndicated and stood at in CA and was "internationally acclamined as the best son of *El Paso" in 1984. His get averaged over $50,000 in auctions at that time. Czaprak is the sire of *Silver Dreamm an imported mare from Sweden and the dam of IV Silver Shadow. As you might guess, the "silver"in Silver Shadow traces to one of the all time Crabbet bred horses - Silver Drift. Silver Drift can be found on many Champion Arabian horses' pedigrees around the World.
Shadow was professionally trained under saddle as a 3 year old and has won blue ribbons in Open Local Shows in Halter, Western and Hunter Pleasure. Even after having not been ridden in over 8 years, we put a saddle and bridle back on her , she stood still for mounting, remembered all of her gait cues in the arena and was ridden around the property without lunging first.
Shadow is a very gentle trusting mare that is a wonderful mother, easy to get in foal. She has taken easily by AI for some of her foals and first cycle by live cover. She has never had any foaling problems. Her foals are usually born a hand taller than a lot of mares foals. She is a big milker, so her foals tend to grow taller and larger than average. The owner of 2 of her purebred Adonisbey geldings, emailed that they are now over 16H tall.
Shadow is a great ride on the trails easily keeping up with younger horses. She still has a lot of charismatic "fire" that is easy to see at liberty and when she is strutting her stuff under saddle. Shadow has been ridden down the road and out on the lakeside trails, over fallen logs and through mud and creeks. . She prefers to follow another horse rather than lead along the trail, but will lead for a confident rider. When ridden behind another horse, she is almost on auto pilot and will walk through creeks, up hills, alongside cars without issue. . But she can transform into a high spirited, high stepping , highly collected powerful English style horse when excited., which is beautiful to watch, but does take an experienced rider to ride. I personally find her a lot of fun to ride.
I get a lot of nice compliments from even the quarter horse trail riders on how beautiful, big and how well behaved she is when I am riding her. She is usually the best behaved of horses in a group trail ride. I have also taken Dressage lessons on her and my instructor always complimented me on my beautiful circles that are so hard to do as well as how well I was riding... until I changed horses and it became obvious that Shadow was doing beautiful circles and just making me look good.
Shadow requires no special supplements or shots to stay sound at this time. She has great feet and does not have high heel/low heel syndrom like so many other Arabian horses have. Shadow also has a natural straight high tail carriage when she is excited, which you can see in some of her riding photos and her videos at liberty.
She is an easy keeper and we keep her out year round on good pasture, mineral salt block and clean water and she stays looking good.
She is current on vaccinations and Coggins papers.

PLEASE READ- Shadow has developed grey horse melanoma, which you can read about on the internet if you GOOGLE for it. It is very common in older grey horses and more than 80% of grey horses will get it when they are over 10 years old. . IT is rarely malignent like a melanoma on a nongrey horse would be. It has not bothered her, but it can easily be seen when she lifts her tail. Even if it may meet your visual criteria now, there is no gurantee with time it will remain so in your eyes if you value looks highly. Because of this, we will be very cautious who we sell her to as we would like someone who has had grey arabian horses before and will give her a forever home.
~ SOLD~