(Poirot++ x IV Silver Shadow)
15.1H Feb 15 2008 grey purebred
Polish Arabian mare.
Professionally Trained Under Saddle.
Dressage, Competitive Trail Obstacles.

Pserenity is the last daughter of Poirot++.
Pserenity has received many comments that she most resembles her sire with her extreme elegant type and natural english action.

Her full brother, PT Cruizer owned by High Meadow Arabians did well in his first Class A Hunter Pleasure Classes with only a few weeks under English Saddle and was complimented for his natural action.
She would be the perfect cross for Gazal Al Shaqab stallions because he like Pserentiy is also tail female to Exelsjor, Priboj , Negatiw, Witraz.
She can be sold bred to our Rumnaja Ali Egyptian bred black Arabian stallion that would have a combined pedigree of the top bloodlines in Gazal Al Shaqab's pedigreeof both Runmiaja Ali on the sire side as well as Exelsjor, Witraz, Priboj and more. Look at Gazal Al Shaqab's pedigree and compare the pedigree of a foal sired by La Black Legacy and out of Silver Pserenity CTA. You will be shocked at how similar the top names are close up and doubled up!! What a wonderful cross for those Gazal stallions!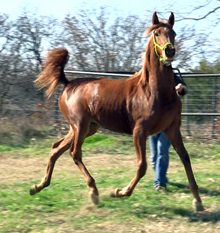 Desert Rose CTA
(LA Black Legacy x TC Annatasia)
Jan 26 2014
Purebred Chestnut with Flaxen Mane.
AHA Reg Purebred Arabian Filly
Very tall and long legged.
Endurance and Sport horse prospect.
15.3H at 2 years old
Should mature to around 16H.

She is a maternal sister to a Res. National Champion, 2 World Champions and One International Supreme All Breed Champion..

The only purebred Arabian filly out of our World and International champion producing mare, TC Annatasia.
Pictures and videos will be done when she sheds her wimter coat.

Pictured above at 10 months old

$18,000 after she is trained under saddle.

Click Here forOnline Foal/Horse Mature Height Growth Estimation Calculator

We occassioally have monthly riding lease opportunities for several of our mares. It is a great way to be able to have a beautiful champion horse to ride without having to buy one. You must be an experienced, intermediate to advanced rider that can ride either English or Western. Horse must stay boarded here. Email us for more information.

IT'S THAT TIME OF THE YEAR AGAIN !!
When we will be deciding which mares and stallions will be bred for foals in the Spring.


Click here for Black Arabian, Half Arabian,
and Tobiano Pinto Arabian Foals
that we will be breeding for
Reserve Your Cross Timbers foal!


Looking for something in particular?
Email us with the specfic information about the horse you are looking to buy, if we know of anything available we will let you know.
Please include:
Age Range of Horse, Gender, Registy Association Papers desired, Color and Color pattern desired, Height of horse at maturity, Training and Suitability for what disciplines, time range you would like to find the horse in, and what Price Range you are willing to pay. The more information we know, the more likely we can help you find something for you.




Click Here for more
Horses
that have SOLD