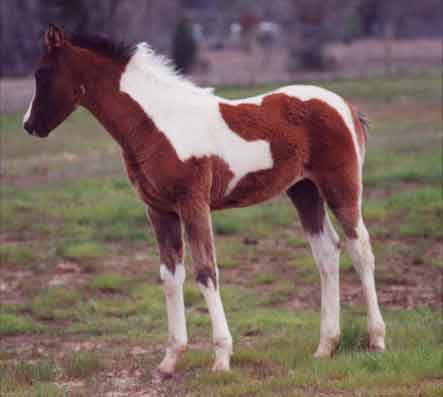 1Feb 2001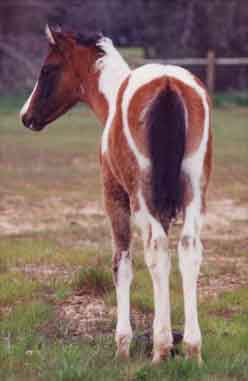 Feb 2001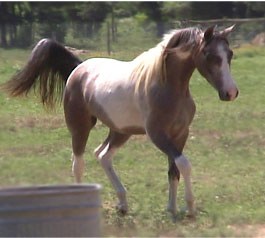 May 2002
Reg: IAHA 5A 341998 PtHA 107488
Bloodlines: CMK and Polish
15h 31/32 Arabian grey 50/50 tobiano gelding
Foaling Date: 12-Jan-2001
Jan 2002 rabies/shots, Coggins, current worming program + West Nile Virus Shots
Sold July 24 2002- J. Dever, Texas


Get noticed in the show ring with this tall, correct, flashy, tobiano Arabian colt! Sultan was 14.3hh at 13 months old (measured on concrete with a stick and level in short bare feet) and has the longest legs and neck we have seen on a foal his age. His legs are longer than his dam and sire's legs now. He is heading for 16hh!

Sultan has the beauty of the Arabian plus added size and substance. Can't you picture this gelding as a Mature White Arabian at 16hh in dressage, endurance or an eventing class, with the added bonus you can show at the Arabian and Pinto Shows!

Grandson of a Reserve National Pinto Horse champion and a Swedish National Arabian Champion, his pedigree is a Who's Who of illustrious sires and dams. Two of his grandparents were imported from Sweden!

Sultan was imprinted at birth and ties, trims, clips, leads, loads and easily sets up for halter.

Take a look at his on-line videos in Feb 2002 showing his natural action at the trot and proud tail carriage! Yes, that tail is natural and it does not take much for him to strut his stuff.




Sultan MoonShadow CTA

Hidasar CheyenneMoon IAHA/PtHA bay tobiano


Hidasar AceOHeart IAHA/PtHA
Res.Nat. Ch
Peppys Bingo
MA SilverBelle AHR (Silver Drift)
NS Kimelet AHR
Gazalski AHR (Hal Gazal)
Kamelotte AHR
IV Silver Shadow AHR
*Grojor
Swedish Nat. Ch
SWSB Exelsjor
SWSB Grobla
*Silver Dreamm
SWSB Czaprak (El Paso)
Swedish Nat. Ch
SWSB Silver Springtime (Silver Drift)