This gorgeous black and white tobiano filly was sold as a yearling to Dawn, a stunning lady herself, as well as an accomplished horse woman and New York City Police Officer.
Dawn did all of the training for Cassie under saddle by herself. Cassie has become her personal war mare, demonstrating fierce loyalty and heart to Dawn. Dawn is pictured above riding Cassie in the 2008 New York City 5th Avenue St. Patrick's Day Parade! Cassie was not quite 4 years old and was the youngest horse in the parade! Quite a wonderful accomplishment for Cassie at such a young age. Congratulations Dawn on an incredible job!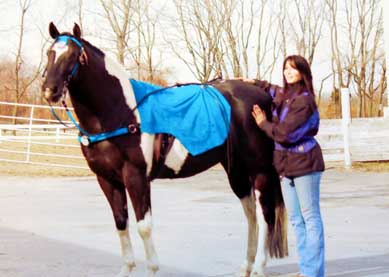 Dawn writes "You can't imagine how strong she is. Every inch of that is muscle. You smack her, you hurt your hand."
Dawn is preparing Cassie for The Extreme Cowboy Race or barrels. " She is definitely an extreme horse. Nothing pleases her so much as running up and down mountains at full gallop or hairpin turns. She is unbeatable in trail races". Cassie is pictured above at 3 years old in her genuine Navajo Bareback set standing with her owner, Dawn.
Cowboys Calico Gal
Cowboy King Frost
Black/Tobiano
APHA 312077
Cowboy Frost
Black/Tobiano
APHA 169361
Jack Frost
Sorrell Tobiano
APHA 85049
My Happiness
Black/Tobiano
APHA 37295
Royal's Miss Pistol
AQHA 2,087,648
Royal Monarch
AQHA 121442
Pistol Jamie
AQHA 1,269,032
Prissys Last Gal
Black/Tobiano
PtHA 101530
JD Bandit
Black/Tobiano
APHA 277973
Pastor John
APHA 158024
Miss CC Bandit
APHA 150336
Prissys Gal
Black/Tobiano
PtHA 71686
UNK
UNK