100% Color Producer ! Flashy, friendly and beautifully marked in black and white. 4 white stockings on 3 black feet and 1 mostly black foot! This filly has a pretty head with very large dark eyes. Born on Valentines day of 2005, she is a a sweetheart.

Both parents are double homozygous for black and tobiano. This filly will always throw tobiano color and never produce a red. Lots of APHA/AQHA cutting and reining in her lineage, such as APHA Reserve World Champion and sire of multiple champions Shots Flying Sparks. Many generations of black tobianos. You can read more about her sire here as well as see siblings out of the same sire. His pedigree traces back to King P234, Poco Bueno, Three Bars and War Admiral.

This filly is athletic with lots of muscling and speed to burn. She is already doing sliding stops just for fun. Take a look at just how fast this filly is and how she gets her back end tucked in and legs dug in for a sliding stop in her September Video Clips. She is bold and adventurous and as a young foal would easily jump over the 2nd bar and under the 3rd bar of a 5ft 3 rail pipe fence. She has the heart to "win" and when she races another colt she wants to be in the far lead. Just when you think she is running as fast as she can go, she can kick in to a higher gear and really pass the colts by. But don't be fooled with her speed, she has a real nice slow canter when she is taking it easy.

Sire is a 15H black tobiano APHA cutting/reining stallion, dam is almost 16H and APHA bred, she should mature around 15H and 1200lbs.

Imprinted at birth, she clips, halters, leads and trims. She has had excellent vet care and we have spared no expense with her... even having the vet do a full physical and passive immunity transfer blood test done when she was born. She is on a monthly worming program. She has been a very healthy and robust foal that has had no injuries or illnesses. The vet care for her dam during her pregnancy and Melody's care as a foal exceeds what we are asking for this filly. . Quality care just as in humans starts before a foal is born and continues on through their growing years. All of our horses are given regular farrier, shots, worming, specialized feeds designed for each stage in a horses life and veterinary care as well as all our horses have Coggins tests done on them every year. A lot of heartache and future training and vet expense from lack of early care and handling can be saved by buying from a reputable breeder. Melody is an excellent example of a cutting/reining/western horse bred horse with the big muscled Quarterhorse body that could carry a good size cowboy as he worked his cows out on the range. She has an incredible willing "in-your-pocket" disposition and loves people and always wants to tag along with you. Her price will increase substantially as a yearling as she grows in height and maturity, so don't wait-. her gorgeous yearling half-sister out of the same dam just sold for several times what we are asking for Melody.

We think she would be an excellent addition to a B/W Pinto Arabian, Spotted Draft/Cob, or especially a Painted Pony breeding program. She has a current September 2005 Coggins test, so she is ready to go to her new home.
We recommend Equine Express http://EquineExpress.com for shipping horses and especially young foals. They can provide box stalls so foals can lie down during the journey. They go coast to coast twice weekly. You may also want to check out 4 Star Transport at thttp://www.4starhorsetransport.com/ You can get an online transportation quotes at their websites. You can buy a prepurchase vet exam from Argyle Veterinary Hospital. If you need insurance on your new show horse, you might review Markel Horse Insurance , Click here to review our Adobe PDF general sales contract. You can buy Melody using your Credit Card through PayPal, no PayPal account required.
We imprint our foals at birth and use natural horsemanship handling techniques. We teach our foals to lead, halter, stand tied, clippers used to trim their bridle path and occassionally trimming the hair inside of their ears as well as some body clipping, picking up feet to be held for the farrier. We recommend any person new to horses that is going to buy a foal or green horse utilize a trainer to help them learn to work with their new horse. There is a skill involved to working with young horses. You must gain a horses respect and confidence inorder to have a good working partnership. We like Clinton Anderson's natural horsemanship tapes/DVDs. You can buy a DVD set entitled "Handling Foals, Weanlings and Yearlings" from Valley Vet .
2005 Homozygous
Black Tobiano Filly
Classics Music Man
Black/Tobiano
APHA 679655
Classics Flying Spark
Black/Tobiano
APHA 385474
Shots Flying Spark
Blackl/Tobiano
APHA 149561
Joechiefs Qtonbabe
Black/Tobiano
APHA 58723
Misty Tune
Black/Tobiano
APHA 452951
Eds Windy Mist
Black/Tobinao
APHA 250891
Rocky Tune
Black/Tobiano
APHA 303692
Prissys Last Gal
Black/Tobiano
PtHA 101530
JD Bandit
Black/Tobiano
APHA 277973
Pastor John
APHA 158024
Miss CC Bandit
APHA 150336
Prissys Gal
Black/Tobiano
PtHA 71686
UNK
UNK


This filly is owned by Mark Hamlin,
Please call 940-464-0471 for more information on this filly.
Melody is located in Argyle, Texas.

Email Mark at mark@hamlinenterprises.com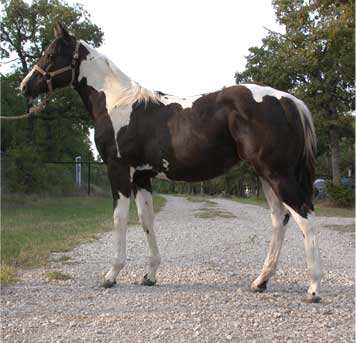 Classical Melody Aug 7 2005