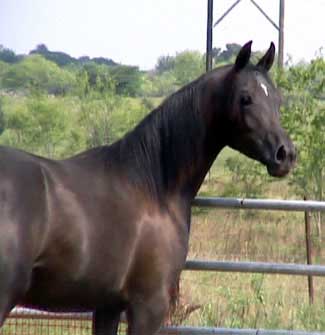 JA Shez A Star
(March 2 2004 - August 20 2011)

15.1+H March 2004 Homozygous Black Arabian Mare
(JRW Bikr Fahiim x Brenna Bint Bahim)
AHR # 608802
Breeders Sweepstakes Nominated
US National and Canadian Futurities Nominated
2005 Region Nine Championship - Top Ten Sweepstakes Yearling Filly (First Time Shown)
Full Older Sister was exported to Mexico.
15.2H Full Older Brother is a Class A Western Pleasure Winner.
Her sire is a Multiple Champion Halter winner and Region IX AOTH Champion.
90 day professional training under saddle.

Star was one of my favorite mares. She is the type of mare that I will probably never be able to find another one like her. Her life was cut short by something so simple ending up turning into over a week of hospitalization with complications resulting in her passing away suddenly. It is only fitting that she is buried at Pine Hill with my beloved Maestros Ariel whose life was also so brief and cut short by uncontrollable circumstances.
Sometimes the ones you love the most, are the ones that life seems to always take away first.
Sadly, like Ariel, I always thought I would have more time to get some good pictures and videos done of her as she had matured into an incredible Arabian beauty with age. Photo above as a yearling.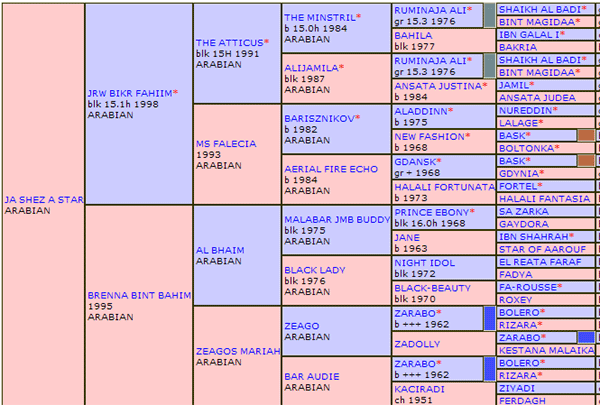 Star at the trainer's barn as a 3 year old.

Her name was Star and she was my light,

She came from Champions true.

She was just a horse black as night,

And loved more than she knew.

With a heart as pure as gold.

But she was so much more to me,

She was a beauty to behold.

And now she runs her spirit free.

I am sure that you will see.

My Star bright in the sky

For she is still with me.

And in the darkest of the night,



Call or email for an appointment to see our horses.
Visit our Virtual Barn on our Sales and Stallion pages- we have Online Movies of our horses for sale and at stud!


We support the next generation of equestrians by providing special discounts for horses that will be used in 4H activities.
Check out our Equine Links Page where you will find more information on
Arabian and Pinto horses, bloodlines, equine article sites, great places to shop and more.
Visit our Ring member sites for other Pinto and Arabian farms.

Cross Timbers Arabians and Pintos
Owners: Carol and Tim Morin
725 Estates Drive
Copper Canyon, TX. 75077-4813
940-241-2627
email: ctarabians@ctarabians.com

Web Design - MyWebShoppe.com