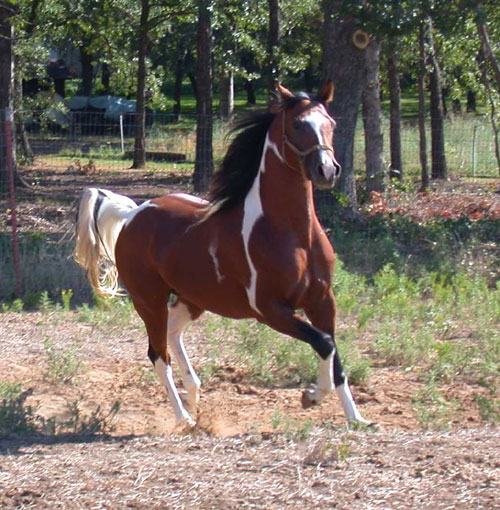 Reg: IAHA 4A329973 PtHA 89393
July 19 1997 Bay Tobiano Pinto 15/16 Arabian
Texas State Fair Pinto Halter Winner
Son of Reserve National Pinto Champion Hidasar AceOHearts.


Combining the best of the Arabian and Pinto breeds for:
* Working Western athletic ability
* Arabian beauty and stamina
* Very Gentle - loves people and attention
* Flashy Tri-Color Pinto coloring
* 4 high white stockings on 4 BLACK hooves!
* Only the best of care with up todate vet and farrier care.
* Sire of an exported Pinto Arabian foal
* Several years of prof training - Western - Reining- Dressage


Cheyenne was used as one of our foundation Pinto Arabian stallions in our breeding program several years ago. He is 98% Arabian with 15/16 documented with the Arabian Horse Assoc. He stands just under 15H in barefeet with good bone and substance. Both of his parents were 15.2H tall and of substantial build.

He is double reg in the Arabian Horse Assoc and Pinto Horse Assoc.

He has many years of professional training in varied disciplines ranging from Western Pleasure, Reining, and Dressage.

He is a State of Texas Halter Winner only time shown.

One of his grand daughters was inspected by the American Warmblood Registry and received a 1st Premium mare and is now entered into their mare book! One of his daughters is a Competitive Trail and Endurance mare that has taken high honors in competition. Cheyenne has the heart to do the same.


~ Sold!~

Hidasar CheyenneMoon
Hidasar AceOHeart
Peppys Bingo
Petit Sharife
Peppy Gayzona
MA SilverBelle
Silver Successor
Sallasa
NS Kimelet
Gazalski
*Hal Gazal
Kemayath
Kamelotte
Sir Ronia
Mar Kami
Cheyenne's foals - Beauty, Style , Athletic Ability

Charm - Sold at 5 months,
Exported to Costa Rica

OJA -Sold at 2 weeks


Ayshai - sold at 20 months

Storm -Being retained for our Show/Breeding program

Sultan - Sold at 18 months

Fancy - Being Retained for our Show/Breeding Program
Stop Video
The Windows Media Videos requires a Windows Media Player
version 7 or higher
get your free player for Windows/Mac here .
Call or email for an appointment to see our horses.
Visit our Virtual Barn on our Sales and Stallion pages- we have Online Movies of our horses for sale and at stud!


We support the next generation of equestrians by providing special discounts for horses that will be used in 4H activities.
Check out our Equine Links Page where you will find more information on
Arabian and Pinto horses, bloodlines, equine article sites, great places to shop and more.
Visit our Ring member sites for other Pinto and Arabian farms.

Cross Timbers Arabians and Pintos
Owners: Carol and Tim Morin
725 Estates Drive
Copper Canyon, TX. 75077-4813
940-241-2627
email: ctarabians@ctarabians.com

Web Design - MyWebShoppe.com