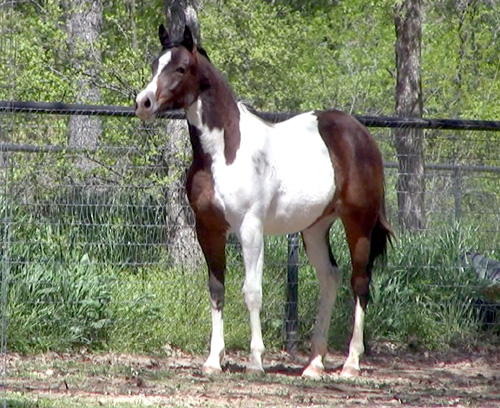 Khiowa Painted Shai CTA
(Leo Dakota GB x Fine Time Finessa )
Feb 5 2009 Bay Tri-Colored Tobiano Pinto Coloured Arabian Gelding
Arabian Horse Association(Half) #1A 369088
Pinto Horse Association papers #137470.
American Warmblood and Quarab eligible .
Current Vaccinations (8-way, West Nile, Rabies)
Current Coggins paper as of July 2009.
Wolf Teeth Pulled.
No blemishes, health or disposition issues.

Half Arabian, Half American Paint Horse.
Imprinted at birth. Very heavily muscled stock type colt.
Flashy tobiano markings, beautiful head with nice correct legs.
Dam is 15H , sire is 15.2H - should mature over 15H.

Pictured above at 13 months old
( unclipped, sunbleached, in long winter coat - he was kept outside all winter)

Wonderful Western Pleasure - Cutting - Barrel Horse, Roping, Reining, Working Cow, Hunter/Jumper or Sport horse prospect.
This colt is easy to work and has a willing friendly people loving disposition. Already halter broke, leads, will load into a slant load trailer easily and back out -even backs up the ramp into the trailer, easily clips with clippers on his bridle path, face and ears as well as body clips; all feet and legs easily handled; used to fly mask on head and face; has worn a baby blanket; easy to groom; will stand tied. He has been worked with the basics using Clinton Anderson natural horsemanship techniques and will: disenagage the hind quarters; disengage the fore quarters; has been desensitized to flipping the rope around his body and easily backs up. Check out his video below showing him at 5 months old showing his ground work training. This colt has better ground training and manners than some adult horses!
His Arabian dam, Fine Time Finessa, is grand champion halter and western pleasure mare whose only foal prior to this foal is a champion working cow horse.

She is an Egyptian/Polish bred mare.
Her sire, Infinety, is a multi champion performance and halter chamion producer, as well as a Country Pleasure and Halter champion. He is a son of Simeon Shai.

Simeon Shai is the Arabian Record Holder :
1991 Scottsdale Champion Stallion.
1991 Canadian National Champion Stallion .
1991 United States National Champion Stallion .
1991 World Champion Stallion .

She is also a maternal grand daughter of The Minstril a leading sire of Egyptian Arabian champions around the world.

Her maternal grand dam, Najm El Sabbah is a daughter of the 10 Million Dollar syndicated stallion, Moniet El Sharaf.

Finessa's paternal grand dam, Tomboy was the dam of National Champion Eternity. Her sire, *Hal Gazal , was imported from Poland by Halberg Arabians in 1970. By Aquinor, Hal Gazal's sire, Eleuzis, was a full brother to the beautiful U. S. National Champion Stallion, *Elkin, and a paternal half brother to one of the breed's all time most popular U. S. National Champion Mares, *Elkana. Hal Gazal's dam, *Bufa, was among Mike Nichols' most treasured mares. Sired by Negatiw, she was a paternal half sister to *Naborr and *Salon; and, like them, a granddaughter of Skowronek.

His American Paint Horse Association sire, Leo Dakota GB, is linebred to King P234 and Leo as well as other AQHA hall of famers.

. He has sired multiple World, National and International Champion Paint Arabian foals. Watch his YouTube Video here.


All of Leo Dakota's Pinto Arabian foals that have been shown at the PtHA World Championship show have taken World Championship titles so far!

This colt is so fancy and correct at only a few hours old, we can definately see him winning similar World Championship titles in the color and pleasure type classes now as well as performance classes such as working cow, reining, cutting, western pleasure, sport horse or endurance later under saddle.

He has also inherited his sire's love for jumping. Look at his video clip of him at only a few hours old, showing his natural abilty to want to jump over things in play!

At 2 months old he is a natural cutting horse. He loves to chase and herd the other foals around the pasture; head low and eyes intently focused, he easily herds the foals round the pasture with smooth flying lead changes and changes in direction. He makes it look easy!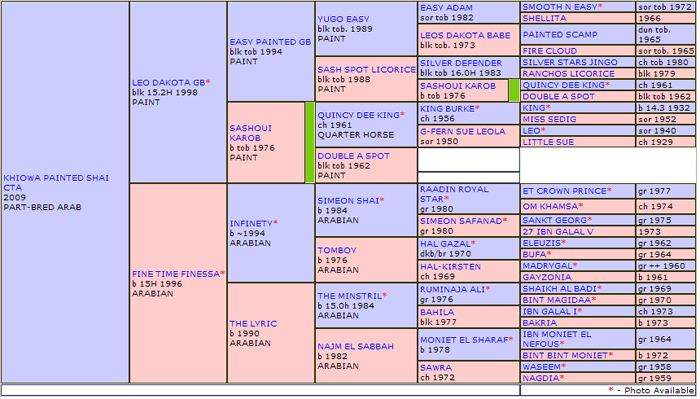 ~ SOLD!~
Congrats to G. Strait of PA on the purchase of this handsome gelding!