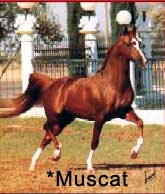 This colt's dam is our 16H Russian Crabbet(Abu Farwa) bred mare that always produces very pretty foals that have a lot of size and athletic ability. Kings Muscateer's Russian Arabian lineage traces to one of the all time leading sire of champion Russian Horses, *Muscat. *Muscat was imported into the U.S. from Russia by Karho of Scottsdale, Arizona. He is a National Champion and sire of many National Champion get. Ibn Morafic+++ is not only a Multiple Champion stallion but also a sire of many champions and brings to King's lineage the Egyptian beauty and show attitude of the *Nazeer lines. *Nazeer's image has often been used to portray the ideal Arabian. Although Nazeer can be found in Russian and Egyptian bloodlines of today, ,interestingly enough, Lady Wentworth sold a group of 19 horses to the Royal Agricultural Society of Egypt among them the maternal grandsire of the great progenitor Nazeer! So, even Nazeer can trace his lineage to Crabbet Park of Great Britain.
Crabbet bred Arabians can be found on most any National Champion Halter or Performance lineage whether in the past or today, particularly when used through the dam's lines. Mares bred through the Abu Farwa lines are still producing exceptionally beautiful and athletic champions. The Aurab CMK Crabbet purebred Arabian lines are notable in most of the top Sport Horses today as well as in several purebred Arabians that have been inspected and approved by Warmblood registries.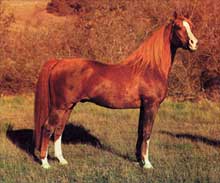 Aurab (1957-1979), pictured to the left, was a big beautiful Chestnut Crabbet stallion that was described by Lady Anne Lytton ( Crabbet Park) in 1977 as "Aurab impressed me as the most striking and perfect Arab I'd ever seen". Since Aurab was unavailable for exportation due to his age, his son Ben Rabba was leased back to England and subseqently sired several British National Champion horses. King's grandmother, Prides Fantasia was an extremely tall beautiful Crabbet bred mare that traced her lineage to *Incoronata, Skowronek, many crosses to Rose of Sharon, Mesaoud, Risala, Astraled, Nasik, Rifla, Queen of Sheba and many others..
Kings Muscateer CTA not only comes from Champion lineage but he also has World Champion siblings. His Half-Sister, Unanimous World Champion Sugar N Spice CTA, became a 2005 Reserve World Champion Open, Top Ten World Champion Color and Unanimous World Champion Amatuer Owner to Handle in Halter as a yearling at her first show. His full blood brother (same sire, with dam's being full sisters), My JigSaw Puzzle CTA became a 2004 unanimous World Champion at 4 months old and a 2005 Reserve World Champion. His full blood sister, Starlight Express CTA became a 2005 World Top Ten Champion at 16 weeks of age in her first show. His sire, Leo Dakota GB is a sire of Muliple World Champion titled Pinto Arabian horses with several lines to AQHA legends Leo and King.

At 16 weeks old, Kings Muscateer CTA became a Top Ten PtHA World Champion in the 2 year old and under Pleasure Stallion Open Halter class competing against all much older stallions with show records. Prior to this show, King had never been off our quiet ranch.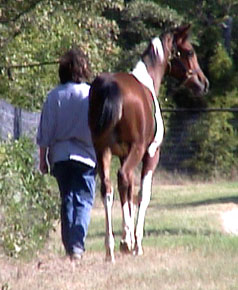 King in early Sept 2005. From a beautiful foal to a gorgeous weanling. This Multiple International Champion Pinto Arabian stallion will be showing and standing at stud with Sharon Thorne, ThorneLeigh Arabians, in the UK. Click Here to Email: Sharon Thorne for more Information on King
.
.