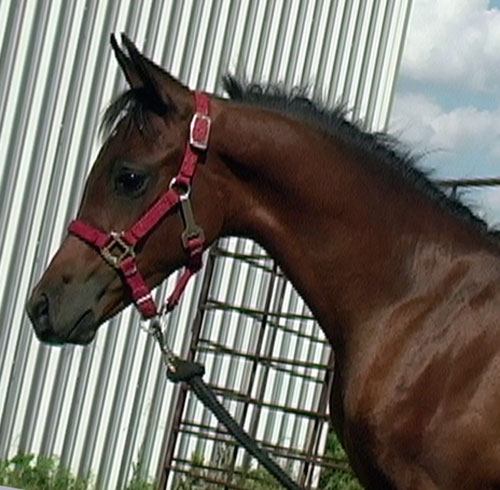 The Marquis CTA
(LA Black Legacy AHR x Winter Storm CTA PtHA/HAHR)
March 7 2008 Dark Bay 63/64 Arabian Gelding
pictured at 3 months old.
Arabian Horse Assoc. HAHR # 6A366677
Extremely beautiful, long legged colt with a naturally high tail set and beautiful neck.
This foal's head has the extreme tippy ears, wide set, large eyes and tiny muzzle
with a dished head that rivals the best of purebred Arabians!
Should mature 15.1 - 16H and over 1000lbs
Looks like he will be a black bay.
63/64 Arabian registered in the Arabian Registry (Half Arabian).
Eligible for American Warmblood Society registration and PtHA breeding stock.
Imprinted at birth, Marquis has had his feet and legs worked with;
loaded in and out of a horse trailer without his dam;
and is leading well for a foal his age.

If you love the beauty and athletic ability of the Arabian horse but would like a larger size horse
than the typical purebred Arabian, than give this colt a look!

This colt is correct and pretty enough to win in halter and should do well not only at the
Arabian shows but also can be shown in the PtHA pleasure type breeding stock classes.

He has the big trot needed for Endurance and the lightness and suspension for Dressage, but
watch him at 8 weeks old , how quick he is on stops and turns and the easy lope -
he could just as easily do Western Pleasure or Reining someday.
He should make an excellent Western Pleasure/Performance or Sport Horse prospect.
Marquis was bred and born here at Cross Timbers Arabians and Pintos.
He was sold at a few months old. We were recently contacted by Marquis' owner.
She is no longer able to keep him, so he is being offered for sale to an approved home for $1800.
Email Tami at sattertam@yahoo.com
~ Update from Tami - Marquis has sold. ~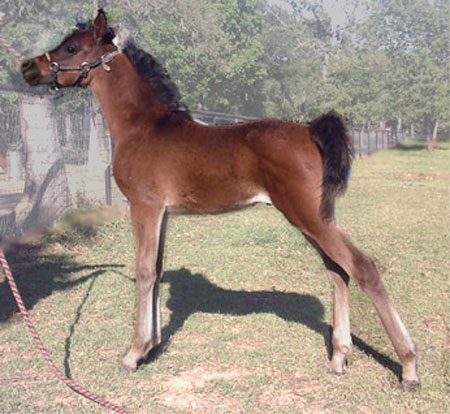 Pictured at 4 weeks old
You can view an interactive full generation pedigree by clicking here


La Black Legacy, his sire, is a beautiful tall Black Egyptian Polish bred Arabian stallion. He is a The Minstril grandson and he also traces to imported Polish and Russian dam lines.He was professionally trained under saddle and won a large class in Hunter Pleasure at his first and only show under saddle. His only foal shown took several PtHA World Championship titles at 4 months old competing against older horses. Legacy is siring a lot of size and beautiful action with intelligent dispositions.

Winter Storm CTA, is a stunning tri-colour Pinto Arabian mare that is AHR documented 31/32 Arabian. She was shown once as a yearling and took a Res.Championship in halter, with her sister Cheyenne Fancy CTA taking the Championship! She is a maternal sister to Unanimous World Champion AOTH and Res WC Open, Sugar N Spice CTA . , a multi World Champion filly at her first show and the only time she was shown, as well as TT World Champion Open Kings Muscateer CTA, exported to UK in 2005 as a weanling and who has taken many Supreme Championships at some of the most prestigious UK shows such the UK CHAPS and Arabian Horse Society National Show.

.Storm's foals have exceptional beauty with small tipped ears; dished Arabian faces; beautiful natual floating action with lots of suspension which is a must for dressage; as well as incredible dispostions that are easy to train.

Marquis is a full brother to Custom Taylored CTA , pictured below at 5 months old
.


Pictured at 10 weeks old