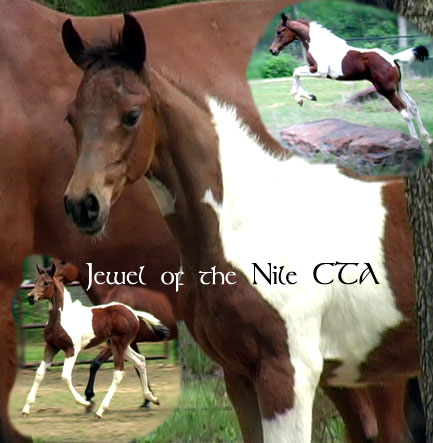 Feb 9 2006 Tri-Colored Pinto Half Arabian Filly
(Leo Dakota GB x TC Annatasia)
HAHR - Jewel of TheNile CTA #1A360934
PtHA pending.

Pictured at 2 months old.

Full bloodsister to unanimous 2004 World Champion Open MyJigsaw Puzzle CTA
Full blood sister to 2005 TT World Champion Open Starlight Express CTA
Full sister to 2005 TT World Champion Open Kings Muscateer CTA, exported to UK
Half Sister by same dam to Unanimous 2005 World Champion AOTH , Res WC Open, Sugar N Spice

This tall filly is show quality and has very bold flashy tri-coloured tobiano pinto markings.
She has a very pretty trot that appears to float on air with graceful ease.
She is very correct and athletic and loves to run at full speed in circles around her dam
out in the pasture. She has natural jumping ability and is bold and adventurous.
Perhaps a future cutting/reining, hunter/jumper, dressage or eventing sport horse is in her future.
Her American Paint Horse Sire is 15.2 hands and her Arabian dam is 16 hands,
she should mature easily over 15.2 hands.
This filly looks very similar to her half-sister, World Champion Sugar N Spice, at the same age, but with
more of an Arabian head that is getting prettier as she gets older.

Jewel has been easy to train as she has the friendliest disposition.
We can halter her, tie and bath her. She is learning to lead away from her dam's side.
We have clipped her bridle path and face and are able to pick up all of her feet.


Congratulations to Sharon Thorne, Thornleigh Arabians, UK
owner of Jewel's full yearling brother, TT WC Kings Muscateer,
for King being shown in his first 2 shows overseas and winning them- qualifying for
3 year end Supreme Championships!!

If you are looking for a tall quality filly that is a proven bloodline cross for producing champions,
this filly should easily follow in her older brother and sister's footsteps in the show ring as well
as becoming a valuable broodmare later.

Congratulations to Randi Sekuler, NY, on the purchase of this wonderful filly!
2006 Filly
Leo Dakota GB
Easy Painted GB
Yugo Easy
Easy Adam
Leo's Dakota Babe
Sash Spot Licorice
Silver Defender
Sashou Karob
Sashoui Karob
Quincy Dee King
(QH 165965)
King Burke (King P234)
G Fern Sue Leola
Double A Spot
TC Annatasia
TF Maestro
GH Muscateer
*Muscat
*Nadhoka
SA Leading Lady
Ibn Morafic+++
TCA Trizerra
Prides Fantasia
Aur Pride
Aurab
Alyna
Liana
Nadirs Sedjur
Alian
The Windows Media Videos requires a Windows Media Player
version 7 or higher
get your free player for Windows/Mac here .
Need to get a quote for shipping the horse from our ranch in Texas to Europe? Click here for FlyMyHorse.com . We recommend Equine Express http://EquineExpress.com for shipping horses and especially young foals across the USA. They can provide box stalls so foals can lie down during the journey. They go coast to coast twice weekly. You can get an online transportation quote at their website. You can buy a prepurchase vet exam from Argyle Veterinary Hospital. If you need insurance on your new show horse, you might review Markel Horse Insurance ,