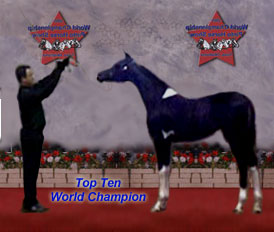 Starlight Expess CTA
(Leo Dakota GB x Maestros Ariel)
Feb 14 2005 Black/White Tobiano Pinto Half-Arabian Filly
Pictured at 4 months old, first show, TT World Championship
Shown with her amateur/owner handler competing against
much older fillies with professional trainers and show records!

Full sister to unanimous 2004 World Champion MyJigsaw Puzzle CTA

Take a look at the beautiful head on this filly as well as her long legs
and long shapely neck. Not very many foals at 16 weeks old show this
type of overall balance and length of neck. This filly is only going to get
better with age and should continue to be a wonder Halter filly as well
as having a versatile performance career in front of her.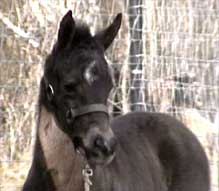 Pictured at 2 days old.
Sold at 4 days old from our Birth Announcement Email.
Congratulations to D. Golden
on the purchase of this gorgeous filly!
Starlight Express CTA
Leo Dakota GB
Easy Painted GB
Yugo Easy
Easy Adam
Leo's Dakota Babe
Sash Spot Licorice
Silver Defender
Sashou Karob
Sashoui Karob
Quincy Dee King
(QH 165965)
King Burke (King P234)
G Fern Sue Leola
Double A Spot
Maestros Ariel
TF Maestro
GH Muscateer
*Muscat
*Nadhoka
SA Leading Lady
Ibn Morafic+++
TCA Trizerra
Prides Fantasia
Aur Pride
Aurab
Alyna
Liana
Nadirs Sedjur
Alian
The Windows Media Videos requires a Windows Media Player
version 7 or higher
get your free player for Windows/Mac here .