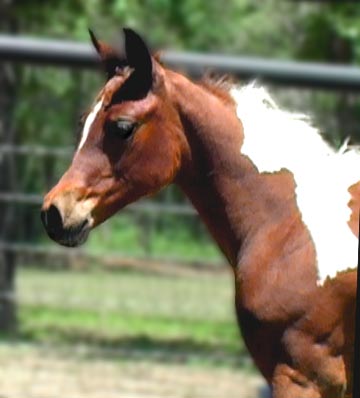 Feb 8 2006 Tri-Colored Pinto Half Arabian Filly
(Leo Dakota GB x Maestros Ariel)
Dakota Dreamcatur CTA - HAHR 1A360940
Dakota Dreamcatcher CTA - PtHA pending.

Pictured at 2 months old.
(You may not ride a head, but it sure is the first thing you see.
This filly has one of the most beautiful Arabian type heads we have ever seen at this age.)

Full sister to unanimous 2004 World Champion MyJigsaw Puzzle CTA
Full sister to 2005 TT World Champion Open Starlight Express CTA

This filly is show quality and has an absolutely stunning Arabian head with large dark Arabian eyes.
She is very correct and has the typical "show me attitude" of her brother and sisters.
She is only going to get more exotic and beautiful with age,
just like her World Champion sister and brother did.
Dakota should mature 15 to 15.2 hands tall.
She is going to look great with a Western Show Saddle, when she gets older .
If you are looking for a quality filly that you can show as a weanling and
have a beautiful Western Pleasure horse later,
this filly should easily follow in her older brother and sister's footsteps
.
Sold - Congratulations to Carol Layfield and DLCL Liminted Partnership
on the purchase of this gorgeous filly!
2006 Filly
Leo Dakota GB
Easy Painted GB
Yugo Easy
Easy Adam
Leo's Dakota Babe
Sash Spot Licorice
Silver Defender
Sashou Karob
Sashoui Karob
Quincy Dee King
(QH 165965)
King Burke (King P234)
G Fern Sue Leola
Double A Spot
Maestros Ariel
TF Maestro
GH Muscateer
*Muscat
*Nadhoka
SA Leading Lady
Ibn Morafic+++
TCA Trizerra
Prides Fantasia
Aur Pride
Aurab
Alyna
Liana
Nadirs Sedjur
Alian
Check back, we will be adding more photos and online videos as she grows.

The Windows Media Videos requires a Windows Media Player
version 7 or higher
get your free player for Windows/Mac here .
Need to get a quote for shipping the horse from our ranch in Texas to Europe? Click here for FlyMyHorse.com . We recommend Equine Express http://EquineExpress.com for shipping horses and especially young foals across the USA. They can provide box stalls so foals can lie down during the journey. They go coast to coast twice weekly. You can get an online transportation quote at their website. You can buy a prepurchase vet exam from Argyle Veterinary Hospital. If you need insurance on your new show horse, you might review Markel Horse Insurance ,