Wow, look at the markings on this colt. He is a real beauty. He is very similar to his half-brother World Champion My JigSaw Puzzle CTA and we expect him to be a show horse champion himself. His sire and dam are of good size and he should easily mature to 15.2H+ . He is foundation bred with King P234 and Leo.

He was imprinted at birth and has a wonderfu sweet disposition. Take a look at his videos. His Sept 2005 video shows how beautiful this colt is maturing with gorgeous long legs, beautiful head with large dark eyes. With his natural easy lope and western jog he should make a wonderful Western Pleasure, cutting/reining or Working Cow Horse. Show him in the color classes now while you wait for him to grow up for his performance career, which is not too far away as he will be 2 years old Spring of 2007. . His half siblings out of the same sire are World Champion and International Champion Halter titled foals.


Contact Owner - Theresa Owens at Phone: 940-648-2607 (Owens Electric ask for Theresa) or Email Us for more Information . Theresa needs to sell some horses, so is motivated to sell before this winter. Give her a call.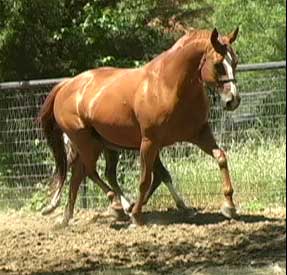 LeosKeno's dam, Kenos Brightbeauty, is pictured to the left. She is a beautiful APHA Paint breeding stock mare that is foundation bred.
Need to get a quote for shipping the horse from our ranch in Texas to Europe? Click here for FlyMyHorse.com . We recommend Equine Express http://EquineExpress.com for shipping horses and especially young foals across the USA. They can provide box stalls so foals can lie down during the journey. They go coast to coast twice weekly. You can get an online transportation quote at their website. You can buy a prepurchase vet exam from Argyle Veterinary Hospital. If you need insurance on your new show horse, you might review Markel Horse Insurance ,
LeosKeno
Leo Dakota GB

Easy Painted GB

Yugo Easy

Easy Adam

Leo's Dakota Babe

Sash Spot Licorice

Silver Defender

Sashoui Karob

Sashoui Karob

Quincy Dee King
(QH 165965)

King Burke (King P234)

G Fern Sue Leola

Double A Spot

Kenos BrightBeauty

Kenos Jackpot

Far Ute Keno

Classy Luck
Bright Kimbarly
Mr Kim Bar

Bright Rae Ann